"This is the disciple who testifies of these things, and wrote these things; and we know that His testimony is true. and there are also many other things that Jesus did, which if they were written one by one, I suppose that even the world itself could not contain the books that would be written. Amen."
(John 21:24-25)
Jesus Died on the Cross
Jesus Buried in the Tomb
Jesus Raised from the grave
Have you ever made a statement or a promise and wish you should had never said it without thinking twice, like:
– "Oh, It's no trouble at all!"
– "Sure, we have plenty of room."
– " Hey, call me any time!"
– "Is there anything I can do?"
– "Hey,- I'll try anything once."
– " No problem, if worst comes to worst, you can always use mine."
– "Don't worry — there's more where that came from."
– "Over my dead body, you will!"
Our words are very powerful. As Christians if we make a promise to someone, we are to keep those promises. It would have been better for you not to make the promise in the first place, than to break it. You can tell God that if He gets you out this trial that you'll do this and that, and when He gets you out of the trial, instead of keeping your word you procrastinate and you try to compromise or try to find a way out.
One thing for sure, God always keeps His word and He expects you to do the same. If we make a promise to God, you better keep it, He will not be mocked. It's better to just do what you know needs to be done than to make promises.
The fact is none of us likes it when someone doesn't live up to their word. If you make a promise to someone or to God and you broke it don't hesitate to fess up and repent, and look to learn from your mistake. Don't go off making promises anymore, but instead do God's will and He will help you in all situations, talk with Him about it, just seek Him in prayer.
Up to this point in His earthly ministry, Jesus had made many promises, and yet of all those He made, it seemed everything would be riding on these three: "The Son of Man must suffer many things, and be rejected by the elders and chief priests and scribes, and be killed, and be raised the third day." (Luke 9:22)
A few of promises mad by Jesus for believers are:
Jesus promised rest (Matthew 11:28–30).
Jesus promised Abundant Life to those who follow Him (John 10:10).
Jesus promised Eternal life to those who trust Him (John 4:14).
Jesus promised to keep us safe. (John 10:28).
Jesus promised that He will return for us (John 14:2–3). From then on, we will be with Him always.
And most importantly Jesus promised that: "The Son of Man must suffer many things, and be rejected by the elders and chief priests and scribes, and be killed, and be raised the third day." (Luke 9:22)
Jesus Christ Kept His Word!
"For as Jonah was three days and three nights in the whale's belly, so shall the Son of man be three days and three nights in the heart of the earth, and shall come forth again." Let me say at this present time that there are a great many who don't believe that Christ has risen."
There He lay from Friday night and up through Saturday, the Jewish Sabbath, His disciples moaning and weeping, They pretty much had given up all hope of ever seeing Him again, but the hour had come for Jesus Christ to conquer death, that was just what He went into the grave for. It wasn't death that followed Him there, no, Jesus pursued death into the grave, bound him hand and foot, and brought up a few captives to show His mighty power. Jesus Christ did not go down into the grave for Himself, but for you and for me. This remains the cornerstone of our faith today that Jesus Christ kept His Word! that He does not lie there dead, but has risen!
Remember how the Jewish religious leaders went to Pilate and asked for additional security over the tomb that Friday? Pilate conceded and sent soldiers to stand guard at the Sepulchre? How they were going to make sure that He shouldn't rise, and how they rolled a large stone to the door of the Sepulchre and even put a seal upon it, and thought for sure they had the body perfectly secure, but early in the morning we are told in Scripture how several of the women went to the Sepulchre to anoint His body, not thinking to find Him risen.
Why, if they had thought and knew and really believed He was going to rise, do you think they would have gone away from the tomb while He was in there? Why, it would have taken more than five hundred soldiers to have kept them away if they had believed that. You can see them going to the Sepulchre. They had got those spices to anoint His body.
And you can see them, as they draw nearer and nearer to the Sepulchre, the sun just breaking the dawn, driving away the darkness of the night, and that beautiful morning just bursting upon the earth—the most beautiful morning the world has ever seen, thinking out loud, "Who is going to roll away that stone?" And suddenly a ministering angel comes down from heaven, flying faster than the morning light and rolls away that stone, and the men who had been sent to guard and watch that Sepulchre began to tremble and quake with fear, and become as dead men! One angel was enough! and he didn't need to let Jesus out. Thank God! "O grave, where is thy victory? O death, where is thy sting?"
All this for you and me that Jesus Christ kept His Word! He had gone down into the tomb, burst the bonds of death, hell, and the grave, and rose again!
In 1 Corinthians 15 the Apostle Paul says there are six things that would be in shambles if Jesus Christ did
not

rise from the dead.
But check out verse 20 reverses the whole paragraph: "But in fact Christ
has been raised from the dead."

So let's look at those six things.
If Christ has not been raised: "then our preaching is in vain, but since Christ has been raised, our preaching is not in vain."
If Christ had not been raised from the dead
your faith is in vain.
(15) If Christ has not been raised, "we are found to be misrepresenting God [literally: we are false witnesses], because we testified of God that he raised Christ." But since Christ has been raised, the apostles are not false witnesses about the work of God.
(17) "If Christ has not been raised then your faith is futile and you are still in your sins." But since Christ has been raised, we are not still in our sins.
(18) If Christ has not been raised, then "those who have fallen asleep in Christ have perished." But since Christ has been raised, the dead in Christ have not perished.
(19) If Christ has not been raised, then "we are of all men most to be pitied." But since Christ has been raised, we are not to be pitied.
I think it's fascinating to observe the reactions of people who are walking in the ways of the world, especially to Christian days of celebration like Christmas and Easter. You can see the despair as they try to make something of it in how they will "observe" these days with a show of their own celebrations. Some, not knowing how to respond, will meet it halfway by bringing images of 'Santa Claus' and the "Easter Bunny" into their days combined with some sort of food festival until the day has died down. And such it is with Easter, almost taking a sigh of relief that they have eight months of revelry until the dreaded December 25th comes along again.
Meanwhile, there's our church community. For us, at least before this dreaded Corona virus lockdown we would return back to our regular habits, church services on Sunday's and for some even mid=week, waiting for the return of our celebration days. Blessed we are that Jesus kept His Word and paved a way for us to be saved and forgiven of our sins, fill us with His Spirit, enabled to read the Word of God, and receive "reproof, for correction, for instruction in righteousness," (2 Timothy 3:16) so that we would know and live lives different than the Godless people who don't know Jesus Christ as their personal Lord and Saviour.
All this said, because the Bible speaks about more than just the Easter fulfillment of God's promises. What can we expect next?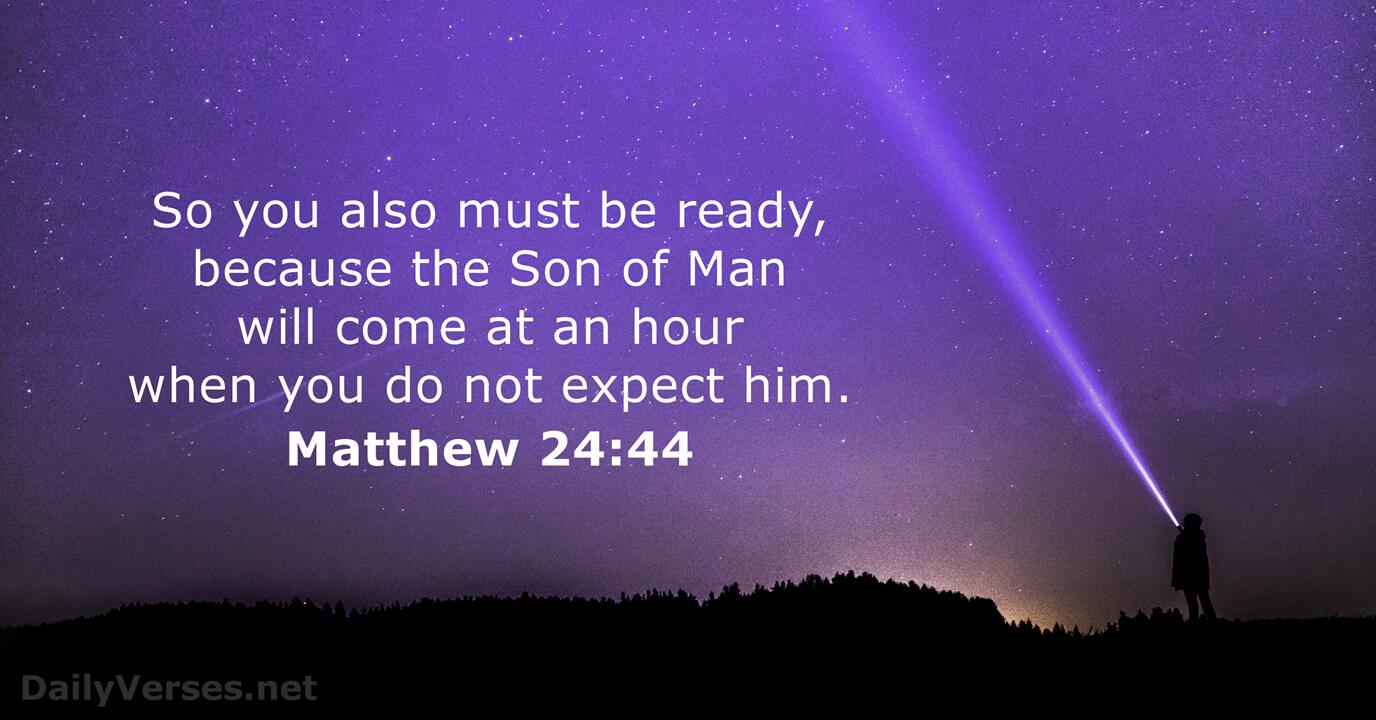 In His first coming, Jesus Christ came to earth as a baby in a manger in Bethlehem, just as prophesied. Jesus fulfilled many of the prophecies of the Messiah during His birth, life, ministry, death, and resurrection. However, there are some prophecies regarding the Messiah that Jesus has not yet fulfilled.
The Second coming of Christ will be the return of Jesus Christ to fulfill these remaining prophecies. In His first coming, Jesus was the suffering Servant. In His second coming, Jesus will be the conquering King. In His first coming, Jesus arrived in the most humble of circumstances. In His second coming, Jesus will arrive with the armies of heaven at His side.
After Jesus ascended into heaven, the angels declared to the apostles, "'Men of Galilee,' they said, 'why do you stand here looking into the sky? This same Jesus, who has been taken from you into heaven, will come back in the same way you have seen him go into heaven'" (Acts 1:11).
Zechariah 14:4 says the location of the Second coming as the Mount of Olives. Matthew 24:30 says, "At that time the sign of the Son of Man will appear in the sky, and all the nations of the earth will mourn. They will see the Son of Man coming on the clouds of the sky, with power and great glory."
The Second coming is spoken of in detail in Revelation 19:11-16; "I saw heaven standing open and there before me was a white horse, whose rider is called Faithful and True. With justice He judges and makes war. His eyes are like blazing fire, and on His head are many crowns. He has a name written on Him that no one knows but He himself. He is dressed in a robe dipped in blood, and His name is the Word of God.
The armies of heaven were following Him, riding on white horses and dressed in fine linen, white and clean. Out of His mouth comes a sharp sword with which to strike down the nations. 'He will rule them with an iron scepter.' He treads the wine-press of the fury of the wrath of God Almighty. On His robe and on His thigh He has this name written: KING OF KINGS AND LORD OF LORDS."
'We are waiting for the coming of Christ with patience, we are to watch with anticipation, we are to work with zeal, we are to prepare with urgency, The Scriptures say that Jesus Christ is coming when you're least expecting Him, coming as a thief, He said, "Be prepared, get ready, prepare to meet thy God, are you prepared? The first time Jesus Christ came to slay sin in men, the Second time He will come to slay sin in men." (Billy Graham)
Some people think that at the coming off Christ everything is to be all done up in a few minutes; but I don't see that in Scripture. The first thing He is to do is to. take. His Church out of the world.
Jesus is going to call His Church His bride, and He says He is going to prepare a place for her. We may judge, says one, what a glorious place it will be, from the length of time He is in preparing it, and when the place is ready He will come and take the Church to Himself. In the closing verses of the fourth chapter of 1
1 Thessalonians 4:14 , Paul says:
"If we believe that Jesus died and rose again, even so also them which sleep in Jesus will God bring with him…. We which are alive and remain unto the coming of the Lord shall not prevent them which are asleep. For the Lord Himself shall descend from Heaven with a shout, with the voice of the archangel, and with the trump of God, and the dead in Christ shall rise first. Then we which are alive and remain shall be caught up together with them in the clouds to meet the Lord in the air, and so shall we ever be with the Lord. Wherefore comfort one another with these words."
Jesus left us a promise that He would come again; and as the world watched and waited for His first coming and did not watch in vain, so now to them who wait for His appearing shall He appear a second time unto salvation. Jesus keeps His Word!
The greatest news in all the world is that God made a clear path to Him through His Son is most glorified when you come to Him in simple faith and make Him your Lord, your Saviour.
Whatever trial you're going through right know, don't give up, give your burden to Jesus Christ, He is on the throne at the right hand of God interceding for you, even as I speak:
"Casting all your cares upon Him; for He cares for you." (1 Peter 5:7)
""Come to Me, all you who are weary and burdened, and I will give you rest." (Matthew 11:28)
"But what does it say? "The word is near you, in your mouth and in your heart" (that is, the word of faith which we preach): that if you confess with your mouth the Lord Jesus and believe in your heart that God has raised Him from the dead, you will be saved. For with the heart one believes unto righteousness, and with the mouth confession is made unto salvation. For the Scripture says, "Whoever believes on Him will not be put to shame." For there is no distinction between Jew and Greek, for the same Lord over all is rich to all who call upon Him. For "whoever calls on the name of the Lord shall be saved." (Romans 10:8-13)