"And God is able to make all grace abound to you, so that having all sufficiency in all things at all times, you may abound in every good work. (2 Corinthians 9:8)
GOD is ABLE to make things happen in your life that you could only dream of……..
To be 'ABLE' means that someone has the power, skill, means, to do something… if given the opportunity.
GOD is ABLE to do: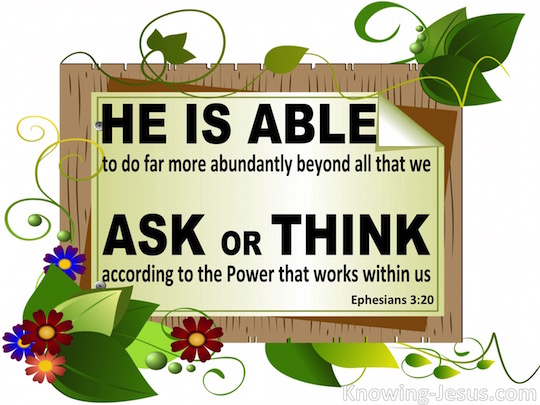 "exceedingly abundantly, above all we could ever ask or think, according to the power that works within us." (Ephesians 3:20)
EXCEEDINGLY means to "go beyond what is allowed or stipulated by (a set limit)
"IN ALL THINGS AT ALL TIMES"
MORE than you could ever need… WHY?
"you may abound in every good work."
In other words, God is able to go beyond whatever appears to be limitations.
Maybe you've got a burden to do something for your neighbor or co-worker or family member and can't see just how you can make it happen. Good news, GOD IS ABLE.
God is daily meeting needs in our own lives, how much more for those people within your circle who maybe have been praying, for something to happen good in their lives, and there you are listening to their needs.
GOD IS ABLE TO DO EXCEEDINGLY, ABOVE!
What a radical thought. Just think if every Christian took the concept of helping others and "put feet to it"
That is what God is doing in this world. In Ephesians Paul says, "For we are His workmanship, created in Christ Jesus [made new again in Christ Jesus] unto good works," (Ephesians 2:10a KJV).
This is His ultimate purpose.
That His church would be praying and looking for ways God wants to meet the needs of people around us and allow Him to "according to His glorious riches in Christ Jesus" and abounding grace through His Spirit, become the blessing someone needs, to SEE Jesus work in their lives.
ASK GOD IN PRAYER TO SHOW YOU A NEED IN SOMEONE ELSE'S LIFE, AND THEN BY GOD'S "ABOUNDING GRACE" watch how He shows you how to meet it.